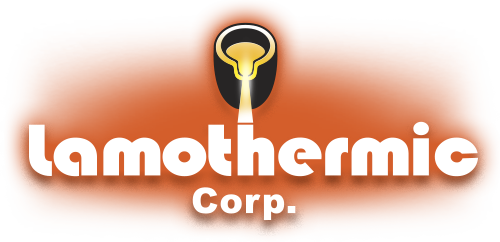 Founded on Quality & Customer Service: Lamothermic was born from our founders' passion for engineering complex investment castings. Founded in 1975 by brothers Amos and Gideon Noach, we have grown from that 2-person operation into a corporation employing over 100 people in a 40,000 square foot manufacturing facility. We remain owner operated, and their commitment to quality and customer service is part of everything we do.
Quality + Best-In-Class Engineering = Satisfied Customers: Lamothermic is your premier supplier of precision investment castings – quality first, every time. Our commitment to superior quality combined with our best in class engineering and advanced automation means that our customers get the best castings for their needs.
Meeting All Your Size & Alloy Needs: Lamothermic wants to partner with you for all your investment casting needs. Whether your part needs are the size of a penny or a tire, stainless steel or bronze, you can count on Lamothermic to deliver top quality castings. We service a broad base of industries, including aerospace, construction, transportation, energy, defense and a wide variety of commercial applications.
If you need a partner who is committed to employing the best people, technology, processes and materials to provide you with a quality investment casting, contact us.
Mike Steele, Chief Executive Officer
Mike Steele joined Lamothermic in 1992 from Rocky Mountain Castings in Colorado. Mike's leadership in areas of Lean Manufacturing, Continuous Improvement, Information Technology and Operational Excellence have propelled Lamothermic to industry leading practices and superior operating capabilities.
Garrett Noach, VP of Manufacturing
Garrett joined Lamothermic part time in 2012, working in various production roles throughout high school and college. After completing his studies, he joined Lamothermic full time in 2018 as a Product Engineer. Garrett became VP of Manufacturing in 2022 and his main focus is to continually bring Lamothermic to new levels. With a love for the foundry business, he believes in employing the best people, utilizing the best technology and materials, and developing concrete processes to provide customers with a top-of-the-line product. Garrett holds a BS in Mechanical Engineering from SUNY New Paltz.
Taylor Seymour, VP of Sales    taylor@lamothermic.com
Taylor joined Lamothermic in 1988. Taylor excels in understanding our customers' needs and works closely with them to design a part that delivers to the required specifications – every time. His knowledge of investment casting, and his customer-first attitude makes Taylor the ideal partner.
Tom Eng, Engineering Manager
Tom has been with Lamothermic since 2006 and holds a MS degree in Metallurgical Engineering from the Polytechnic Institute of Brooklyn/New York. With his 40 years of industrial experience in metallurgy, product development and manufacturing, Tom can help our customers get castings that meet design requirements with the highest quality. Tom is always exploring new solutions to reduce cost and lead time, and to improve casting quality for our customers. He leads a strong engineering team comprised of seasoned experts and talented, energetic early career engineers. Our engineering team is ready and willing to assist in early casting design and to resolve any and all issues to deliver the products you need.
Cesar Ferreras, Quality Assurance Manager
Cesar came to Lamothermic in 2020 from an Aerospace Component Manufacturer and has brought with him over 20 years of experience in the Quality Assurance field. He works with our ISO-9001 team to plan, direct, and implement activities of the Quality Assurance Management System guided by the ISO-9001 specification to ensure continuous improvement and customer satisfaction. As Lamothermic' s responsible Level III MT, PT, and RT technician, Cesar trains and certifies our NDT Technicians to both NAS 410 and SNT-TC-1A guidelines and standards. He takes our responsibility for quality very seriously knowing our customers depend on the performance of our castings.